If you see a bear this can be one of the most memorable experiences of your
hiking trip. Remember this is the bears home not yours.They are to be respected.
B.C. has a black bear population estimated at 120,000-160,000 , or about 1 bear
for every seven square km.The population for grizzlys is at 10,000-13,000 , but
you will find few if any in the lower mainland . Human -bear conflicts are
relatively rare , with 4 deaths and 25 serious maulings in the last 3 years . This is
not much when you consider the number of people heading into the outdoors
every year. Most problems can be prevented by following some simple
precautions .

1.Some people wear bells. What ever you do be heard ! It doesn't pay to
surprise a bear.
2.Stay away from dead animals. Bears may attack to defend such food .
3.Be careful near feeding areas such as berry patches or salmon spawning
streams.
4.There is no safe distance from a bear , the further the better.
5.Keep children close at hand and in your sight.
6.If you see a bear don't run : back out of the area immediately talking in a
calm voice.
7.Avoid direct eye contact with a bear. This may be taken as a threat if you
don't.
8.It's best not to hike with dogs . They can antagonize bears and cause an
attack.
9.Do not get between a sow and her cubs.
10.Be aware of what bear scat looks like and look for signs of it on your trail.

* If you are Attacked by a black bear : Curl up into a ball and protect your neck .
If the attack persists, fight back with sticks , rocks and yelling . Black bears have
been known to make " False Charges " to scare off threats . You don't ever want to have them close enough that you have to use your pepper spray . This should be your last line of defence.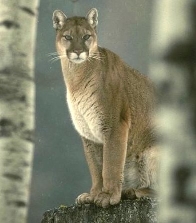 The Cat Facts
If you are out hiking and see a cougar consider yourself very lucky . It is with
good reason the first nations people called them the "Ghost of the Forest " . Most
British Columbians will never see a cougar in their life time.Confict between
cougars and humans is extremely rare . In the past 100 years a total of 5 people
have been killed by cougar attacks in B.C. All but one of theses attacks occurred
on Vancouver Island. During the same period there were 29 non-fatal attacks (20)
on Vancouver Island . The majority of these attacks were on children under the
age of 16 .Your best defence is awareness, cougar attack is highly unlikely . The
cougar or mountain lion is at the top of the food chain .An adult male weighs
between 140-200lbs , the female between 90-120lbs . The biggest cougars are
found in the kootenays and in the interior of B.C. Their primary prey is deer . It
will also feed on wild sheep , elk , rabbits , beaver , raccoons , grouse , livestock ,
and the occasional roaming pet . Cougars are most active at dusk or dawn , but
they can roam and hunt at any time of the day or night and in all seasons . During
late spring and summer , 1-2 year old cougars become independent of their
mothers . While attempting to find a home range , these young cats may roam
widely in search of unoccupied territory . This is when cougars are most likely to
conflict with humans . Below are a few tips from the B.C. Ministry of
Environment , Lands and Parks .

1.Keep children close at hand and under control.
2.Never approach a cougar
3.Always give a cougar an avenue of escape
4.Do not run as this will trigger the chase response.
5.Pick up children off the ground immediately.
6.Stay calm . Talk to the cougar in a confident voice.
7.Do not turn your back on a cougar,face the cougar & remain upright.
8.Do all you can to enlarge your image,pick up sticks or wave your pack.
9.Hike in groups of 2 or more . Make enough noise to prevent surprising a
cougar
10.Carry a sturdy walking stick to be used as a weapon if necessary

If a cougar behaves aggressively : Arm yourself with a large stick,throw
rocks,speak loudly and firmly. Convince the cougar that you are a threat , not
prey. If a cougar attacks : Fight back , many people have survived a cougar attack
by fighting back with anything , including rocks ,sticks ,bare fists , and fishing
poles . *** My goal is prevent any harm to you or the cougar *** These beautiful
animals can be a rewarding and exciting experience if you are lucky enough to see
one . Again common sense is the rule here .